ASTUR Group Travel - What we offer
Arranging trips for our international guests to Germany is one of ASTUR's most original areas of expertise. Ever since our foundation 1986, we have been providing groups with great travel experiences in Germany and Europe. Over the years, our services have become more and more diverse, enabling ASTUR to integrate individual requirements and wishes effortlessly into the arrangement of any group travel programme. Through modularisation we can assemble programmes for the unique purpose of any group.
Our experience allowed us to establish a number of basic travel frameworks, which we then work on to create your individual programme. The following tiles are to guide you to more detailed descriptions of such programmes, including a few samples of what trips we prepared in the past.
Group travel customisation
There is a vast number of modifications which can be made to the group travel framework, so that the trip, we put together for you, meets your demands and focal points. Through customisation we can ensure that our offer features everything you had in mind. While assembling your programme, ASTUR provides a high level of transparency and flexibility, negotiating favourable rates with activity providers and reacting to your requests to adapt the programme. In general the process of creating a group trip follows three steps, explained below:
ASTUR offers various types of accommodation to best suit your travel ideas and budgetary limitations. Every type of accommodation has its advantages:
Homestay accommodation - low rates, intercultural immersion, personal contact to host family
Residence accommodation - low rates, lively environment
Hotel accommodation - elevated quality standards, high level of comfort and calm
By default, we include 
Full Board Accommodation
in our group travel programmes. On request, however, it is always possible to opt for
Half Board
 or
Bed & Breakfast 
instead.
When considering trip details, the question of a definitive travel period needs to be addressed the earliest. We need the dates for arrival and departure as early as possible. ASTUR programmes can be assembled for different lengths, ranging from short trips between 2 - 4 days up to long stays of 10 days or more.
Another pressing question at the beginning of your deliberations revolves around your favourite destinations. Are you happy with staying at one place for your stay or do you consider including a second/third destination?
Southern Germany > Bavaria > Nuremberg
or
Southern Germany> Bavaria and Swabia > Nuremberg, Munich, Stuttgart
Organising group travel programmes with a destination at one of our ASTUR Centers is generally recommended, as there you can count on the assistance ouf our Center Managers. They serve as first contacts for group leaders in the day-to-day management of group trips as well as in situations of emergency. Naturally, your destination may lie outside of ASTUR center range - in other EU countries for example. However, in those cases we can offer only residence or hotel accommodation.
It may be the case that your group has to sort out certain formalities before the start of the trip. But not every group has to make the same arrangements. You can rest assured that we will keep our eyes peeled for all eventualities applying for your individual group:
How will your group get from A to B?
Arrival and departure are easily booked for any group. However, once you have reached your destination, how are you to reach the hotel, restaurant, sights or take part in activities on the countryside? ASTUR is here to help. Whether you need tickets to public transport, long distance train tickets or your own coach to ensure your group's transfer, we can provide you with an appropriate method of transportation.
Are all participants adequately insured?
It may be necessary for certain groups to take out additional travel insurance, including Third Party, Medical and Accident coverage. ASTUR will assist you, if this applies to your group.
Are Visa required?
The German Federal Foreign Office publishes visa requirements for each country. It may be necessary for your group to apply for visa, in order to be allowed to travel to Germany or the EU. In this area, too, we could already learn the ropes. We regularly deal with visa applications and invitations. Feel free to get in touch with us.
There are plenty of options available to you, when you set out to create a group travel programme according to your own ideas. This way, we can make sure that our offer to you matches exactly what you had in mind when thinking about your trip. During planing phase we offer transparency and flexibility, looking for favourable rates when it comes to activities you want to include, adapting quickly to your requests to change things around. The majority of group travel programmes we put together may look like these sample programmes:
Class trip Berlin
Trips to Germany's capital Berlin count among our most popular programmes. Berlin proves herself an excellent teacher of lessons drawn from historical events. In contrast to the very heavy topics dealing with our past, Berlin is also very good at entertainment and excitement. Today Germany's capital buzzes with cosmopolitan flair.
Class trip Freiburg
Group travel programmes to South West Germany are particularly popular among our international guests. The mild weather and untouched environment spread fantastic holiday feeling! All participants of ASTUR group travels tend to fall in love with the southwestern charm!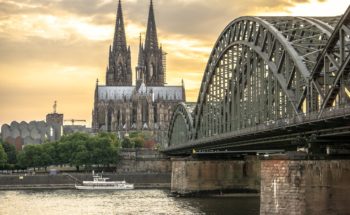 Class trip Cologne/Bonn
The so-called Rhineland in the West of Germany is a lively region. Its people - especially in the cosmopolitan hubs of Cologne, Bonn and Mönchengladbach - are open-minded, tolerant and welcome their guests with open arms. The arts, history and architecture are cultural features characterising the Rhineland.
Presenting ASTUR destinations
It goes without saying that ASTUR offers its programmes in a larger variety of destinations than our most frequently booked trips may suggest.  Thanks to our extensive network of host families we are capable of offering group travel programmes all across Germany.
In total there are six main destinations. After you picked one, there is still ample opportunity to go into more detail. The list goes as follows:
On the following pages ASTUR presents our destinations in more detail. Just follow the link to find out all there is to know about them.
Talk to us via social media
You have questions for us but don't have an e-mail address? You currently don't have access to your mails? You'd rather have a simple chat with us? In those cases, just contact us via social media and we get back to you as soon as possible. You'll reach us via the button below.