Augsburg is an ancient town with a history spanning across 2000 years. As a major trading centre, Augsburg very quickly made a name for itself. Over the centuries the town has lived through much change, which is reflected today in its architecture and cultural heritage.
In the summer holidays, students from all over the world gather here, in Germany's second oldest town, to learn German. Here, they make their first international experiences, socialise during lessons as well as activity programmes, in a safe environment.
More about Camp Augsburg
In the town centre you feel safe, relaxed and at ease. Numerous gardens and parks, as well as the lively pedestrian zones, make a trip to Augsburg unforgettable for travellers of all ages. The historical buildings and the many street cafes give the town a Mediterranean feel.
Whether you book homestay or residence accommodation, please let us know in your application if you are a vegetarian, a vegan or have any other dietary requirements. We will accommodate your preferences and cater for individual needs wherever possible.
What Camp Augsburg looks like...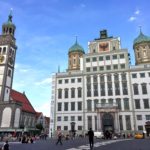 Where to find Augsburg on the map
Talk to us via social media
You have questions for us but don't have an e-mail address? You currently don't have access to your mails? You'd rather have a simple chat with us? In those cases, just contact us via social media and we get back to you as soon as possible. You'll reach us via the button below.
If you are eager to know all there is to know about Camp Augsburg, we recommend the following downloadable documents. You will find the complete list of details about all services provided below. Feel free to take a good look at our offer (all documents as PDF format).
Augsburg is not the camp you are looking for?
There may be many obstacles which can prevent you from coming to camp. The location may be to far away from home. Possible dates may be unconvenient or something else makes attending just impossible.
In these cases we would like to offer another camp from our portfolio. Maybe one of them is the one for you!
What your forerunners have to say
"Augsburg Summer Camp was so much fun! Also I could really improve my German skills. What I liked in particular was getting to know people from may different home countries. Afternoon activities were diverse every day and we all had a great time."
"What I liked the most was our day trip to Munich!"