This is how you learn German
The ASTUR language training programmes bring together the elements of travel and language in a particularly fruitful way. We welcome your group - i. e. your school class - in Germany. Attending a language training, you will not only be taught German by our native-speaking teachers, we are also keen to show you our country, culture, food and drinks. Language trainings are best suited for groups of 15 participants or more, aged 14 or older, with a minimum duration of one week.
Our language courses are designed to reach your learning goals. Usually we teach 20 lessons per week. Language course material is prepared in close contact with group leaders and teachers at home. Part of our preparations revolve around setting learning goals for every students, adapting course material accordingly.
Talk to us via social media
You have questions for us but don't have an e-mail address? You currently don't have access to your mails? You'd rather have a simple chat with us? In those cases, just contact us via social media and we get back to you as soon as possible. You'll reach us via the button below.
The arrival and departure day for the Mini-Group programme is always on Sunday. You will get to know your host family before tuition starts on Monday.
You will arrive at your destination as a closed group, either by coach, train or plane. Your host families will welcome you at the first meeting point and take you home. You will be accommodated in groups of 2, 3 or 4 students.
Your German language course will generally take place in the morning with lessons equally divided across 5 work days, depending on your booking. At the beginning of the course you will take a placement test, which the teacher will use to help him with preparation for the lessons.
Learning to use the language actively is the primary aim of the lessons. Our teachers create their own motivating, cultural and original lesson plans. They can be about a whole range of topics that are taken from "real life" in the form of discussions, role plays, interviews and other active elements. You will simply be able to speak and you should seize this opportunity as speaking the language will aid your learning success and motivate you to take further steps with the language in the future. Your vocabulary and knowledge of grammar will also automatically expand and improve – not just through rote learning, but also through speaking and listening.
Our teachers are native speakers. That means that they do not only speak the language fluently, but they have an ingrained understanding of their native culture. They also have experience in communicating their language to students from other countries.
We teach from levels A0 (beginner without previous knowledge) to C2 (Proficiency) in accordance with the CEFR (Common European Framework of Reference for Languages). We have different lesson material for every level, and the certificate that you receive at the end of your stay will indicate at what level and for how many hours you were taught.
When classes are over for the day, you will spend your free time exploring your destination. ASTUR can help you create an activity programme with guided tours, museum visits or workshops. If you want to make all free time-related reservations yourselves, we are happy to assist. Over the years we gained a lot of experience when it comes to booking interesting and enjoyable travel programmes and are happy to present a few sample programmes of language trainings, which we organised in the past, below.
Your group will spend their evenings with the host families, who will be responsible for your students' own interests and welfare and integrate them in their everyday life. They might cook together with the family or play a typical board game.
You can always include day trips to your language training. One trip is included by default in every language training of at least 2 weeks. However, further day trips, which are recommended to take place on the weekends, can always be added. Furthermore, we have a 24-hour emergency hotline every day which we will react to immediately should there be a bigger problem.
Before the beginning of your stay you will receive a detailed information pack from us with everything you need to know about arrival, what you should pack and the activity programme. Your host family may give you access to their Wi-Fi. However, it ultimately is family's decision to give you access.
Please note, that your regular health insurance generally will not cover you for all treatment costs incurred in Germany. We, therefore, generally recommend purchasing foreign health insurance as well as accident and liability insurance. You can purchase these insurances without hassle through us as a complete pack for the duration of your stay.
If you do not book your insurance through ASTUR, we will need to see proof of your existing insurance before your arrival.
If you need a visa to enter Germany you will be required to show proof that you have purchased a respective insurance in order to apply for the visa. It's best to talk to your agency or with us directly. We're always happy to help.
Language training destinations
If it is your wish to be placed in a specific region in Germany (e.g. Bavaria or the Rhine land), ASTUR will try to find a suitable host family exactly there. The following destinations are at your disposal for language trainings:
Sample language trainings
Language training Koblenz
During this one week programme in Koblenz the group honed their German language skills with regards to text production and, at the same time, gained insight into Rhineland culture. To turn this training programme into a most enjoyable trip, free time activities in Koblenz as well as excursions to Bonn and Cologne were included to the groups experience in Germany.
Language training Berlin
During this language travel programme, the group invested two weeks of training in Berlin to prepare intensively for upcoming German exams. We provided the group with comprehensive learning and revision material. The group's activity programme revolved around living in Berlin and the city's history.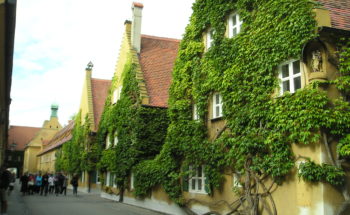 Language training Augsburg
During this two week language training programme the group not only expanded their German language skills but also learned a great deal about EU politics and diversity. Free time activities in and around Augsburg gave the group a deep insight into life in Bavaria, German hi-tech and history.
Language trainings are not what you are looking for?
Should you be interested in another programme, we are happy to present a number of alternatives. Maybe you would like to travel to Germany on a more informal class trip, without language course? Or would you rather book private language tuition with us? In that case, you may want to take a look at our One-to-One programme or mini group tuition.