Language and Sports Camp Regen
Language and Sports Camp Regen
At the international Language & Sports Camp in Regen we value language acquisition as much as we value sports activities. Innovative and creative teaching concepts are combined with a monumental sports and outdoor programme. Our international mother tongue camp staff ensure that you are well looked after and help you pick up the language during and after class - without even noticing.
We see to it that the nationalities in each house are very diverse, so that you are able to speak German or English all the time and learn to master the challenges that the daily life on camp has in store for you. Nonetheless, when you arrive with a friend, we will allow the two of you to be accommodated in the same accommodation.
What Camp Regen looks like...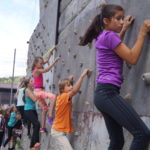 Where to find Regen on the map
Regen is not the camp you are looking for?
There may be many obstacles which can prevent you from coming to camp. The location may be to far away from home. Possible dates may be unconvenient or something else makes attending just impossible.
In these cases we would like to offer another camp from our portfolio. Maybe one of them is the one for you!
Talk to us via social media
You have questions for us but don't have an e-mail address? You currently don't have access to your mails? You'd rather have a simple chat with us? In those cases, just contact us via social media and we get back to you as soon as possible. You'll reach us via the button below.
What your forerunners have to say
"When we went canoeing, I was a bit shy at first. But the teamers encouraged me and it was actually very nice! It was great to paddle along the river with all the others. It was like going on a real adventure."
"The variety of sports activities was huge! I could try something new every day. Even though I never did many of those sports before, it was great to give each of them a try."