Adventure and Creativity Camp Walsrode
Adventure and Creativity Camp Walsrode
The International Adventure and Creativity Camp Walsrode is located at the beautiful Lueneburg Heath, close to Hamburg, Bremen and Hannover. Camp spans an area of over 15 hectares, with vast meadows, forests and even a few small lakes with their own beaches. We are proud to have created such a holiday paradise for children and adolescents. The whole area is divided into a number of areas which all offer exciting activities.
Whether you go kayaking, bridge or raft building, enjoy yourself on the water trampoline or in a water walking ball: everything is possible in the "Beach & Water Area". Next to it, the "Survival Area" offers team building activities, including climbing and a high ropes course. It is the ideal area for all adventurers and creative minds!
We see to it that the nationalities in each house are very diverse, so that you are able to speak German or English all the time and learn to master the challenges that the daily life on camp has in store for you. Nonetheless, when you arrive with a friend, we will allow the two of you to be accommodated in the same accommodation.
What Camp Walsrode looks like...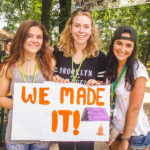 Where to find Walsrode on the map
Walsrode is not the camp you are looking for?
There may be many obstacles which can prevent you from coming to camp. The location may be to far away from home. Possible dates may be unconvenient or something else makes attending just impossible.
In these cases we would like to offer another camp from our portfolio. Maybe one of them is the one for you!
Talk to us via social media
You have questions for us but don't have an e-mail address? You currently don't have access to your mails? You'd rather have a simple chat with us? In those cases, just contact us via social media and we get back to you as soon as possible. You'll reach us via the button below.
What your forerunners have to say
"Creativity Camp Walsrode was super fun. I could really relax and be creative, spending my time outdoors. And, in the afternoons, it was a nice change to go swimming in the camp lakes."
"At Camp Walsrode I could choose all those activities I've always wanted to do. We saw wild animals at Serengeti Park and going on the Adventure Hike was a tremendous experience. I have never spent a more diverse time during my holidays."