Language and Sports Camp Inzell
Language and Sports Camp Inzell
Our International Language and Sports Camp Inzell lies within the majestic Alpine Foreland between the cities of Munich and Salzburg. It is arguably the perfect location for great free-time activities, and close enough for day trips to the Bavarian state capital Munich or the beautiful historic city of Salzburg in Austria.
We see to it that the nationalities in each house are very diverse, so that you are able to speak German or English all the time and learn to master the challenges that the daily life on camp has in store for you. Nonetheless, when you arrive with a friend, we will allow the two of you to be accommodated in the same accommodation.
What Camp Inzell looks like...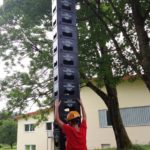 Where to find Inzell on the map