ASTUR destinations in Germany
Germany has a lot more to offer than it may appear. There are far more wonders to discover than the biggest touristic hot spots suggest. Beside Berlin, Munich or Cologne there are a large number of beautiful sites in Germany, ready for you to discover them. Each region breathes a unique atmosphere and is renowned for special areas of expertise - from architecture and the fine arts to history and politics or businesses, literature, or the environment, to name just a few.
This overview shall present our destinations to you in a detailed fashion. We are sure that we can introduce you to new destinations you haven't heard of before but may find interesting.
Destinations in West Germany
We admit, the German Rhineland is most famous for the local street carnival parades. However, this part of Germany has so much more to offer! A few of the country's most ancient and impressive cathedrals can be found here. The region's largest cities such as Cologne or Düsseldorf buzz with an international atmosphere and the river Rhine is waiting to be discovered via a boat trip.
Destinations in Bavaria
When travelling to Bavaria you see first hand how tradition and the modern age clash. Contemporary architecture, which can be found in Munich, is integrated in beautiful landscapes of the Bavarian mountains, forests and small towns. Zeitgenössische. You can go from quaint villages to high-tech cities in one day, depending on what you want to include in your programme.
Destination Berlin
Berlin - the place to be! With a population of 4 million inhabitants, the capital of Germany is the nation's biggest city. Millions of visitors from all over the world explore Berlin each year, in order to discover its fascinating culture, exceptional history and state-of-the-art entertainment. In fact, your options in Berlin are so vast, that you have to take a good look at what is on offer for your travel programme to be a unique experience. In this regards, ASTUR is happy to be of assistance.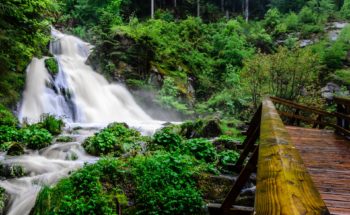 Destinations in the Black Forest
Black Forest is a large mountain range situated in the Sough West of Germany, in the state of Baden-Wuerttemberg, sharing borders with France and Switzerland for example. The famous German river Rhine flows along the Western Black Forest foothills. The highest mountain in the Black Forest mountain range is Feldberg. The region is not only famous for its cuckoo clocks and gâteau, but also for its unique customs and traditions. The breathtaking landscapes and mild climate are the icing on the cake. The local ASTUR Centers have exactly those kind of activities in store for you: nature, traditions, history as well as science and environmental technology.
Destinations in East Germany
If we had to name one underestimated part of Germany, it would definitely be East Germany! Untouched landscapes, baffling rock formations and mysterious lakes - this region is the prime address for all fans of pristine nature. Furthermore, East Germany is famous nationwide for music, literature and architecture. Finally, you can take the most exciting adventure hikes, through the Elbe Sandstone Mountains and go rock climbing there.
Destinations in North Germany
The North of Germany is a diverse region within the ASTUR network: On the one hand there are the magnificent Hanseatic towns Lübeck and Lüneburg with their idyllic, medieval town centres. On the other hand there are the busy, modern cities Hamburg and Bremen. On the one hand the beautiful Lüneburg Heath is waiting to be discovered, on the other hand, Hannover and Detmold welcome you with ancient German fairy tales and contemporary trade fares or art. North Germany truly has a lot in store for everybody.
Which programmes are available?
When it comes to booking a programme for you - or adapting an existing programme to your wishes or even creating your own itinerary for that matter - your travel destination plays a key role. ASTUR offers a variety of travel opportunities to international guests and interested groups at home. You can pick from one or more of the following areas:
For an overview of all programmes which ASTUR can offer you, just follow this link presenting our portfolio.