The historic Hanseatic towns of Lübeck and Lüneburg hold a vault of stories about their former glory and power as medieval commercial powerhouses. Our international guests usually travel to the far north of Germany in order to learn about the history of seafaring or the sea itself. Nautical activities may range from trips to Hamburg or Bremen, visits to the North or Baltic Sea or the unique scenery. After some time in the lively port towns, you will find peace and quiet at the sound of the waves.
Impressions from Lüneburg and sites in Center vicinity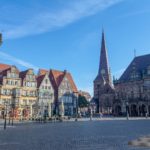 Impressions from Lübeck and sites in Center vicinity
Which programmes are available?
When it comes to booking a programme for you - or adapting an existing programme to your wishes or even creating your own itinerary for that matter - your travel destination plays a key role. ASTUR offers a variety of travel opportunities to international guests and interested groups at home. You can pick from one or more of the following areas:
For an overview of all programmes which ASTUR can offer you, just follow this link presenting our portfolio.
If you are interested in finding out more about all available ASTUR destinations, you can return to the overview here. If you are keen to know how an exemplary group travel programme to this area can look like, just check out the sample programme for a class trip below.