Trade Fares & Fairy Tales
Even though it may be a few miles from our Centers in Hannover and Detmold to the sea, there is an abundance of exciting activities in the central north region of Germany. In particular, two elements can be found here: There is the capital city of Lower Saxony, Hannover. The busy town centre is renowned for its international trade fares, contemporary art and its ties to the royal family of Great Britain. Moreover, the region counts among the the primary settings of ancient Germany fairy tales. Many tales by the brothers Grimm are said to have taken place near Detmold: Hameln, Kassel or the castle of Sleeping Beauty are located close-by.
Impressions from Hanover and sites in Center vicinity
Impressions from Detmold and sites in Center vicinity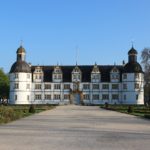 Which programmes are available?
When it comes to booking a programme for you - or adapting an existing programme to your wishes or even creating your own itinerary for that matter - your travel destination plays a key role. ASTUR offers a variety of travel opportunities to international guests and interested groups at home. You can pick from one or more of the following areas:
For an overview of all programmes which ASTUR can offer you, just follow this link presenting our portfolio.
If you are interested in finding out more about all available ASTUR destinations, you can return to the overview here. If you are keen to know how an exemplary group travel programme to this area can look like, just check out the sample programme for a class trip below.