Rhenish-Hesse & Rhine Gorge
Germany's famous Rhine Gorge runs through two of the country's Federal States, Rhineland-Palatinate and Northrine-Westfalia. This region's most distinctive feature is the large number of castles and palaces, located in the wooded hills along the river Rhine. Between the cities of Bingen and Bonn you experience environment and history hands-on. Naturally, with woods and castles come tales and myths. This is particularly true in the Rhine Gorge area. The Lorelei rock and a number of sites from the Song of the Nibelungs wait for you to discover them.
Impressions from Bad Neuenahr and sites in Center vicinity
Impressions from Koblenz and sites in Center vicinity
Impressions from Mainz/Wiesbaden and sites in Center vicinity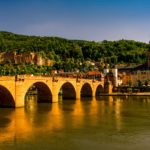 Video by 25kicks by order of Wiesbaden Marketing GmbH
Which programmes are available?
When it comes to booking a programme for you - or adapting an existing programme to your wishes or even creating your own itinerary for that matter - your travel destination plays a key role. ASTUR offers a variety of travel opportunities to international guests and interested groups at home. You can pick from one or more of the following areas:
For an overview of all programmes which ASTUR can offer you, just follow this link presenting our portfolio.
If you are interested in finding out more about all available ASTUR destinations, you can return to the overview here. If you are keen to know how an exemplary group travel programme to this area can look like,  just check out the sample programme for a class trip below.